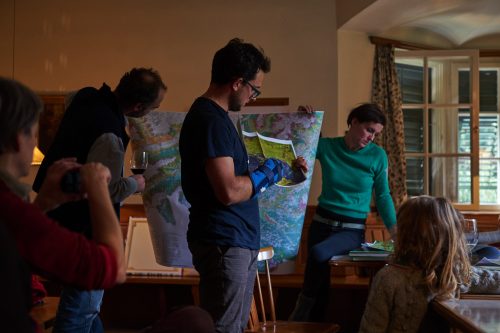 Laurin Felix Mayer ist Förster der Forststation Meran. Er hat beim Workshop Terratorium am Erbhof Mayr-Unterganzner, der im Rahmen der BAU Residency 2016 mit Gastkünstlerin Emma Smith stattfand, seine wertvolle Expertise über Wälder und Bäume einfließen lassen. Zusammen mit anderen Experten wie Weinbauern, Weinakademikern, Meteorologen ist man der Frage nachgegangen wie der Ort an dem man sich gerade befindet nach außen verbunden ist. Da der Wein Terratorium in einem eigens produzierten Eichenfass lagerte, bezog sich der Beitrag des Försters auf die Herkunft des Eichenbaumes.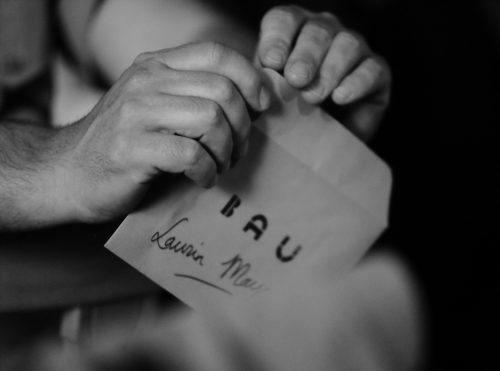 Laurin Felix Mayer is a forester at the Meran forestry station. He brought his considerable expertise on trees and forests to the Mayr-Unterganzner Estate for the Terratorium workshop, part of the BAU Residency of 2016 with Emma Smith. Along with expert vintners, wine academics, and meteorologists participants looked at how a particular place is connected to places elsewhere. Terratorium wine was aged in purpose-built oak barrels, so Mayer's contribution considered the origins of the oak tree.
Laurin Felix Mayer è il guardaboschi della stazione forestale di Merano. Ha contribuito con le sue preziose competenze in materia di foreste e alberi al workshop Terratorium, nell'ambito della BAU Residency 2016 di Emma Smith presso la tenuta Mayr-Unterganzner. Insieme ad altri esperti come viticoltori, accademici del vino e meteorologi è stata esplorata la questione di come il luogo in cui ci si trova sia collegato con l'altrove. Poiché il vino Terratorium era conservato in una botte di quercia appositamente prodotta, il contributo del forestale si riferiva in particolare all'origine della quercia.