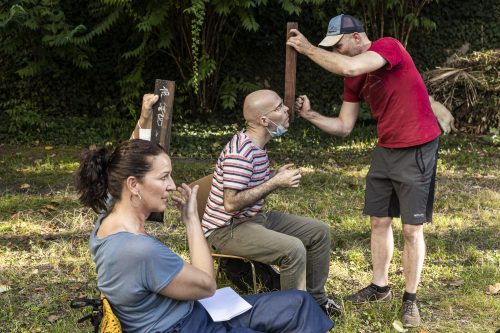 Nikolaus "Klaus" Eilken wurde 1980 in München geboren. Im Alter von elf Jahren begann er, klassische Gitarre zu spielen. Mit vierzehn Jahren war seine Leidenschaft so groß, dass er ein ganzes Jahr lang als Zeitungsausträger arbeitete. Mit welchem Ziel? Um sich eine Stratocaster leisten zu können. Dann begann er sich für den Geigenbau zu interessieren, parallel zu seinem Studium der "Holztechnik" in Rosenheim, wo er den Kurs "Geschichte und Entwicklung der Musikinstrumente" besuchte. Gebannt von der physikalischen und klanglichen Interaktion von Saiten und Holz, war er von der Kunst des Gitarrenbaus fasziniert. Aus diesem Grund entschloss er 2005, das Studium abzubrechen, um sich hauptberuflich dem Gitarrenbau an der Geigenbauschule in Mittenwald zu widmen, wo er seinen zukünftigen Kollegen Thomas Orgler kennenlernte. 2008 Schloss Klaus sein Studium mit einer beeindruckenden Bandbreite an Fähigkeiten in Gitarrenbautechniken und seinem eigenen klassischen Gitarrenbau ab. Er zog im Anschluss nach Verona, Italien, wo er für Roberto Fontanot arbeitete. Im Jahr 2010 beschloss er, mit Thomas zusammenzuarbeiten und gründete die Werkstatt Thomas Guitars in Bozen.
Auf Einladung von BAU hielt Nikolaus Eilken den Workshop Klangholz im Rahmen der Ausstellung R for Resonance von Ho Tzu Nyen kuratiert von Emanuele Guidi in der ar/ge kunst, Bozen.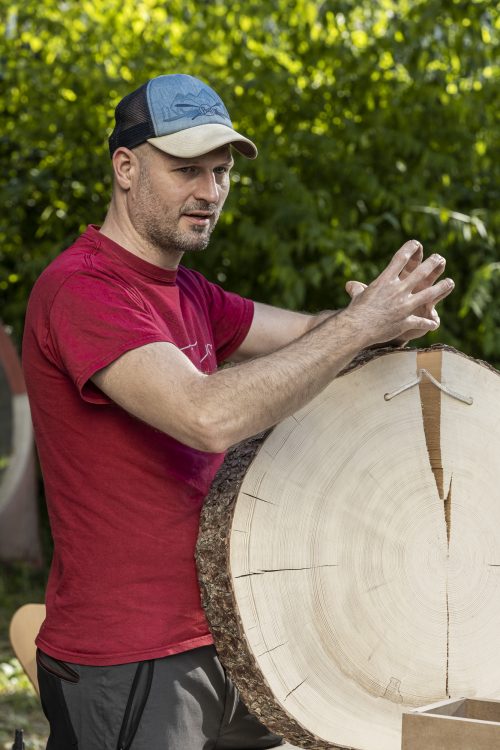 Nikolaus "Klaus" Eilken, was born 1980 in Munich. Klaus started to play classical guitar when he was only eleven. At the age of fourteen, his passion had already drawn him to work as a paperboy for a whole year. For which purpose? To afford a Stratocaster. He then became interested in Lutherie while studying "wood technology and industrial engineering" in Rosenheim, attending the "historical and physical development of music instruments" course. Fascinated by the physical and tonal interaction of strings and wood, he became addicted to the art of guitar building. Therefore, he decided to abandon college, pursuing guitar building full time at the Luthier school in Mittenwald, Germany in 2005, where he encountered his future colleague Thomas Orgler. Klaus graduated in 2008 with an impressive set of guitar building techniques and his very own classical guitar design. After his studies he moved to Verona, Italy, to work for Roberto Fontanot. In 2010 he decided to team up with Thomas, creating a workshop in Bolzano.
BAU invited Nikolaus Eilken to hold the workshop Tonewood, in the framework of the exhibition R for Resonance by Ho Tzu Nyen curated by Emanuele Guidi at ar/ge kunst, Bolzano.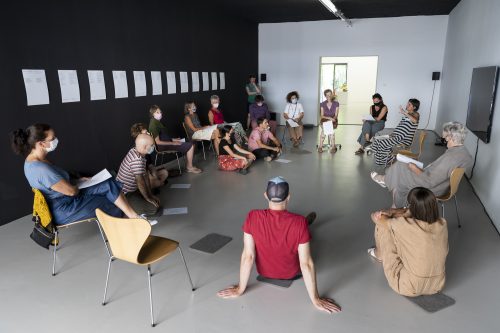 Nikolaus "Klaus" Eilken nasce a Monaco nel 1980. Ad appena undici anni inizia a suonare la chitarra classica. A quattordici la sua passione è tale da spingerlo a lavorare per un intero anno consegnando giornali. Con quale obiettivo? Potersi permettere una Stratocaster. Comincia in seguito ad interessarsi alla Liuteria, parallelamente ai suoi studi in "ingegneria del legno" a Rosenheim, frequentando il corso di "storia e sviluppo degli strumenti musicali". Affascinato dall'interazione fisica e tonale di corde e legno, viene rapito dall'arte della costruzione della chitarra. Per questo motivo, nel 2005 decide di abbandonare l'università per dedicarsi a tempo pieno alla costruzione di chitarre presso la scuola di liuteria a Mittenwald, in Germania, dove incontra il suo futuro collega Thomas Orgler. Klaus si laurea nel 2008 con una serie impressionante di competenze nelle tecniche costruttive di chitarre e con un proprio design di chitarra classica. Si trasferisce subito a Verona, in Italia, dove lavora per Roberto Fontanot. Nel 2010 decide di collaborare con Thomas, fondando un laboratorio a Bolzano.
Su invito di BAU, Nikolaus Eilken ha tenuto il workshop Legno di Risonanza nel contesto della mostra R for Resonance dell'artista Ho Tzu Nyen a cura di Emanuele Guidi presso ar/ge kunst, Bolzano.